News
A man sentenced to up to 110 years in prison for shooting a policeman on Route 33
Daniel Clary sentenced to 53.5 to 110 years
Kelly said he lost 12 days of his life to a coma after suffering multiple gunshot wounds, cracked ribs after doctors opened his chest to massage his heart and the near-failure of his kidneys and liver. As he floated in and out of a coma, Kelly said he suffered nonstop nightmares that made him feel like he was "in hell being tortured and attacked." Kelly recalled seeing a cup of coffee and longing to drink it, but couldn't because he had to learn again how to swallow — and to talk, and to walk.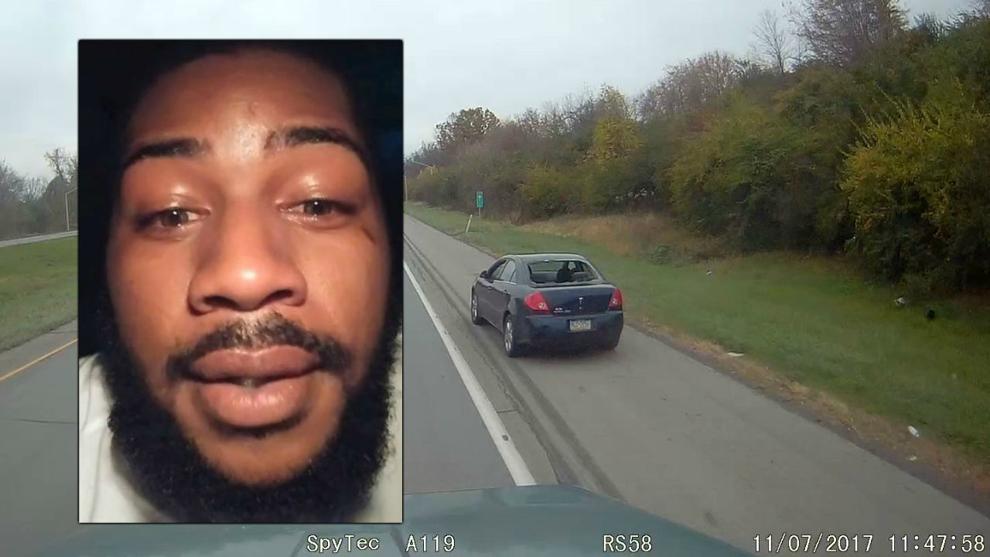 Philomena Kelly told a Northampton County court Friday about her and her husband's problems after he was wounded near Route 33 in Plainfield Township in November 2017.
She told the court that Cpl. Seth Kelly of the Pennsylvania State Police was in a coma when physicians informed her that fewer than 1% of people who experienced his injuries survive, she told the court. He might have needed a liver and kidney transplant, but he might not have lived through it, says Philomena Kelly.
And she's been by his side as he's learned to sit up, eat and walk, all the little things we do every day, she said.
"I look at his scars every day and realize that it's a miracle he's still here," Philomena Kelly said.
Northampton County Judge Stephen Baratta on Friday sentenced 22-year-old Daniel Clary to 53½ to 110 years in state prison. A jury in June found him guilty of attempted murder of a law enforcement officer in connection to the brutal struggle along Route 33 in which he disarmed Kelly and Trooper Ryan Seiple, who had conducted a traffic stop.
Clary retrieved a gun from his car and shot Kelly three times. Authorities said he tried to shoot Seiple but ran out of ammunition. He was convicted on two counts each of attempted murder of a law enforcement officer; assault of a law enforcement officer and disarming a law enforcement officer along with single counts of escape, carrying a firearm without a license, resisting arrest and speeding.
Prosecutors withdrew two counts each of attempted homicide, simple assault and reckless endangerment. As she addressed the court, Philomena Kelly noted the irony surrounding the fact that a jury of Clary's peers found him not guilty of driving under the influence, the reason he was stopped in the first place.
Clary, who sat quietly in an orange prison jumpsuit and a sling on his left arm, did not address the court. Defense attorney Janet Jackson told the court that Clary must pay for what he did but asked the judge to show compassion for a young man with mental health issues and a history of brain trauma.
Clary hasn't been "right" since he was assaulted by a group of men in the 11th grade and suffered concussions while playing high school football, Jackson said. He went from good grades and athletic accomplishments to losing menial jobs because he was "off," she said.
"I just ask that you balance the mitigating circumstances and not just throw Mr. Clary away," Jackson said.
The judge said he couldn't argue with Clary's history of mental health issues and would agree that he has likely exhibited early signs of Chronic Traumatic Encephalopathy or CTE, which is associated with concussions.
And we, as a society, should be embarrassed that the necessary mental health treatment is not readily available to those in need, Baratta said.
But everyone who has examined Clary said he is competent and was intentional in his decisions that morning, the judge said. The video of the struggle and shootout showed Clary had a well thought out plan to disarm the troopers that was executed under a highly stressful situation, Baratta said. The video sent chills to his core, the judge said.
"He certainly wasn't a crazy man or a dummy that day," he said.
Before proceeding, court officials moved the sentencing to courtroom one, the largest courtroom in the courthouse, to accommodate the overflow gallery that included at least three dozen uniformed state troopers attending in support of Kelly and Seiple.
Philomena Kelly read an emotional victim impact statement to the court. Herself a member of law enforcement, she recalled starting the day of the shooting the way she and her husband always started the day.
"We said the same words we always say to each other, 'Be safe. I love you,'" she said.
Philomena Kelly recalled hearing the "terrifying" radio calls for a state police trooper being shot and the panic that began to set in.
"Even though it wasn't confirmed, deep down I knew it was him," she said. "It was Seth."
Philomena Kelly said she was whisked to St. Luke's University Hospital, where her husband was being treated. She said she was taken in to see Seth Kelly because he wasn't breathing and it might have been the last time she saw him alive.
"I started yelling, 'Fight Seth! Fight for us!" she said.
It was and will always be the worst day of my life," Philomena Kelly said.
Seth Kelly told the judge that he had no recollection whatsoever of what transpired along the shoulder of Route 33, perhaps his brain's effort to prevent him from having to relive the ordeal. When he awoke 12 days later, he remembers seeing his wife, who told him that he'd been involved in a shooting.
He initially couldn't speak. He had a hard time breathing. His rib cage had been cracked open, so surgeons could massage his heart.
Seth Kelly remembers desperately wanting a cup of coffee, but hospital staff wasn't sure if he'd be able to swallow it.
Kelly told the judge that he remains in physical therapy as he continues to heal physically and emotionally. While he can't remember what happened, he remembers having nightmares for 12 straight days during his coma.
"And no matter how hard I try I can't remember," he said. "I lost 12 days of my life."
Seth Kelly said he and his wife tried to avoid watching the dashcam video of the shootout that was released after the trial. He feared it would cause a setback in her emotional recovery.
But he said he does hope that its release shows the public how quickly a situation can turn into life and death for police.
Seiple conducted the initial traffic stop and had sent Clary on his way, when Clary stopped the car to speak with the trooper again.
Seiple – the son of Colonial Regional police Chief Roy Seiple – also read an emotional, detailed and lengthy impact statement about the day "Daniel Clary tried to murder us."
"While our day started like any other, it came to end with many of us covered in blood," he told the court.
Seiple tried to paint a picture for the court about how the frenetic moments unfolded: the rush of blood to your head as you feel like you're about to be killed, standing face-to-face with an armed Clary with only one round left in your gun.
After firing your last shot, you feel so exposed as you try to get to your car for some semblance of cover, Seiple said. He recalled crawling across the gravel on the shoulder of the highway with the image of his infant daughter in his head hoping he wasn't going to die that day.
Seiple recalled yelling for a fellow trooper to call for a medical helicopter as he and a colleague tended to Kelly. He'll always remember the sound of ripping Kelly's pants leg to look for a bullet wound and a fellow trooper trying desperately to stuff gauze in the bleeding wound.
Several troopers worked desperately to heave and drag Kelly's lifeless body up the steep bank off the side of the highway, Seiple said. He watched as the corporal's lifeless eyes rattled like pinballs in his head.
Seiple remembers trying to scrub Kelly's blood from his hands.
Seiple said the t-shirt he wore under his uniform that day hung in his locker for months. It was a shirt honoring another state trooper who had been shot and killed during a traffic stop. He wore under his uniform on Friday.
Seiple, who said he was shaken to his core, turned at one point to address Clary, who he called evil and a disgrace to mankind. He said he sleeps at home soundly every night and feels energized every day that Clary is in jail.
Roy Seiple also addressed the court. Wearing his own uniform in support of all police officers, he told the judge that Clary's sentence must reaffirm the conviction that all members of law enforcement have for the profession they've chosen.
David Clary testified on behalf of his nephew, telling the judge that he was a "good kid" up until the assault in 11th grade.
"It changed him overnight," David Clary said.
He was paranoid from that day on," said. "You couldn't touch him, you couldn't walk up on him fast."
David Clary said after the attack his nephew always thought someone was out to get him and that he sometimes just sits and stares right through you. And he said he learned two days before the shooting that Daniel Clary had purchased a gun.
He warned Daniel that he shouldn't have a weapon and wondered aloud how and why anyone who met Daniel would think it was okay to sell him a gun.
Deputy Assistant District Attorney Terry Houck asked the judge for the maximum allowable sentence. A pre-sentencing investigation clearly shows Daniel Clary has no remorse and felt the troopers were at fault, he said.
The judge agreed that the pre-sentencing investigation shows Clary was fairly clear about what happened that day. After the initial traffic stop, Clary stopped Seiple because he was annoyed, Baratta said. "The stop took all my time, so I thought I'd call him back and take up his time," Clary said in the report.
The judge said Clary had neither a juvenile nor an adult criminal record before the shooting. He was cooperative during the pre-sentencing investigation, but the probation officer who conducted the interviews said he thought Clary would "smile or laugh during inappropriate times," Baratta said.
Clary has a history of mental health issues and acknowledged smoking marijuana and synthetic pot weekly for a few years.
The judge called the incident a "horrific and violent crime" for which Clary doesn't seem to be remorseful or take responsibility. He said Clary also expressed disappointment that the troopers didn't disarm him or talk him down "like in the movies," Baratta said.
"That's a bizarre statement I thought," the judge said.
But Baratta said he couldn't accept the defense's argument that Clary felt threatened by the troopers and in immediate danger.
He re-engaged Seiple after the traffic stop and consistently made statements about disarming the troopers, the judge said. The dashcam video clearly shows Seiple and Kelly ordering Clary to the ground and using non-lethal means such as Tasers to control the situation, according to the judge.
Kelly could be seen chasing Clary around the car with his firearm holstered, Baratta said.
Clary needed only to lean into his car window to quickly retrieve a loaded handgun, the judge said. There's no other reason to put an easily-accessible loaded gun next to driver's seat other than in case Clary needed to shoot someone that day, Baratta said.
"He was all in on a gun battle," he said.
All but for the heroic efforts of police, EMTs and medical staff, and the "heroic physical constitution" of Kelly, Clary would have been looking at the death penalty, the judge said.