After decades of chains, exhausted circus elephant finally experiences freedom
As a passionate animal lover I am obligated to say that I oppose circuses. So, when I read about wild animals performing to entertain people I am heartbroken. Tragically, sad tales like that keep popping up. However, some of them have a happy conclusion! The case is Nosey an ex-circus elephant. When she was just 2 years old Nosey came into the United States, from Africa. It was in the beginning of the 1980s. In the years since she was made to take part in circus performances. It's been more than 30 years.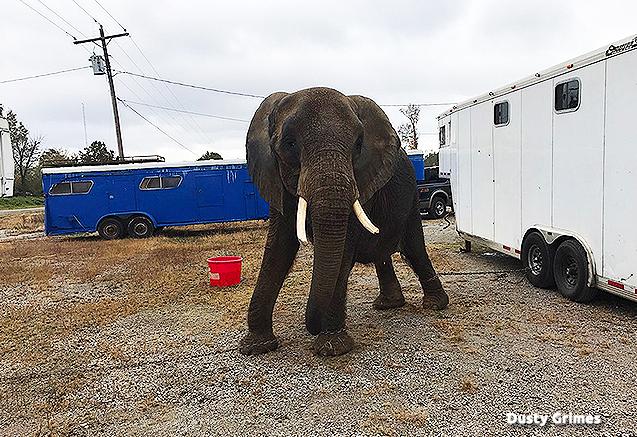 Despite her precarious medical condition, the tormented elephant was still pressured to act. More than that, her owner, Hugo Tommy Liebel, who runs the Liebel Family Circus, have rent her out to other circuses. Over three decades Nosey lived a lonely, unhappy life as she was not allowed to socialize with other elephants. Aware of Nosey's heartbreaking situation, countless petitions have been signed. The Elephant Sanctuary in Tennessee even made an offer to the careless owner, but all in vain, The Dodo reported.
Fortunately, everything changed in one day. While the circus caravan stopped in Moulton, Alabama, the authorities started receiving calls from people concerned about Nosey's well-being, according to the Dodo. So the officers acted quickly and Nosey was taken to a sanctuary in Tennessee.
"After so much hard work over the years by so many organizations and individuals, the end is hopefully in sight and Nosey will be able to live a long life and find some friends at the Elephant Sanctuary in Tennessee," Ed Stewart, president and cofounder of the Performing Animal Welfare Society told in a statement. "We would also like to recognize the courageous government officials in Alabama that found Nosey's existence in a traveling show so obviously unacceptable."
Soon after, a judge decided that Nosey will not go back to her owner. A delighted decision for all the activists and animal rights groups who fought for Nosey's freedom.
"Our focus was to offer and focus on actions that would lead to the rescue of Nosey," Karen Smith, organizer of Action for Nosey Now, told The Dodo. "Today marks success expressed in the best possible way: freedom for an abused animal … Nevertheless, there are still too many Nosey's that need us to speak for them — and we will." Now Nosey enjoys her life at the Elephant Sanctuary in Tennessee, where she gets the chance to roam freely for the rest of her life!
Source: thedodo