News
UPDATE: No action will be taken after an inquiry into a video of a police officer and an EMT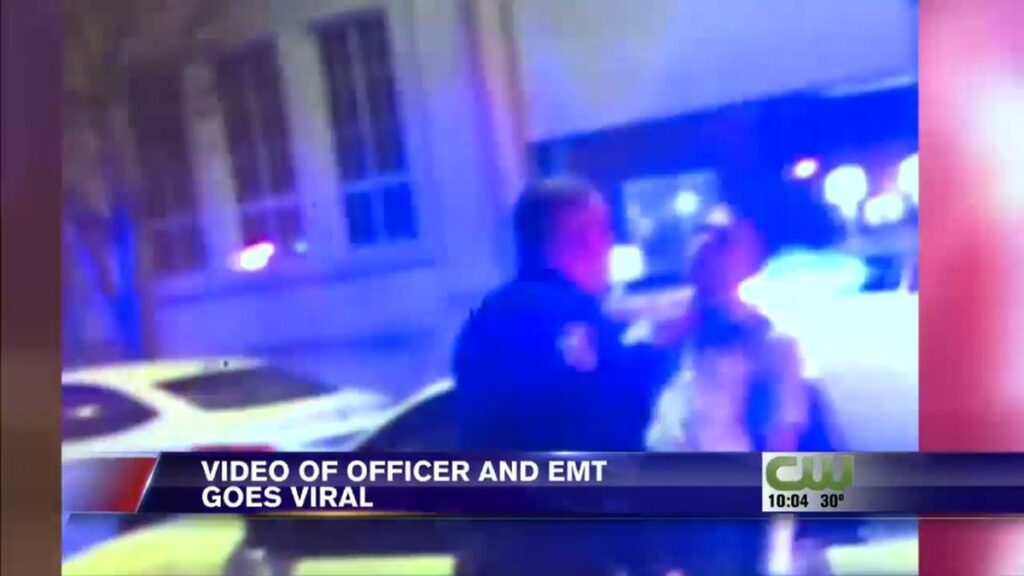 PORTSMOUTH, Ohio (WSAZ) –Portsmouth Police Chief Robert Ware says he saw nothing in a video of a police officer and an EMT that supports charges of excessive force.
At a press conference on Thursday, Chief Ware said that no action would be taken against the officer and that he believed he responded in the best manner possible given the circumstances.
This comes after a video of a police officer placing his hands on an EMT in front of a throng of people leaving bars circulated on social media.
According to Ware, the incident began while medics were caring for a sufferer who was kicking medical staff.
"This gentleman got punched and was knocked out, and he had a lot of alcohol. Typically in our line of work when they come to, the last thing they remember was they were in a fight," Life Medical Response Capt. Jon Jenkins told WSAZ.
But Jenkins says the situation became dangerous.
"If you've seen the video, I'm right up against the gentleman and he's trying to bite me and he's trying to punch and I took quite a few kicks and knees thrown," Jenkins said.
Jenkins asked the responding officer to use a Taser in an attempt to control the patient.
Another medic on the scene didn't hear the request and originally thought the victim could have a head injury.
The medic grabbed the officer on the left shoulder, which isn't shown in the original video, and the officer reacts by moving the medic out of the way.
Ware said the officer grabbed the medic first under the armpit and then by the clavicle, not by the throat. He said the two men parted ways amicably.
Body camera video was used by two officers with Shawnee State University in the investigation.
Police are still trying to identify a suspect involved in the original fight that led to the call.
PORTSMOUTH, Ohio (WSAZ) –A Facebook video seems to show a Portsmouth police officer at the scene of a call with his hand on or around a medic's neck and throat.
The video has been seen hundreds of times and caused a lot of anger on the internet, but both police and people who were there think it doesn't show the whole thing.
WSAZ spoke with a group of pals who claimed to have seen the occurrence.
Last Saturday night, the buddies were hanging out at a pub in downtown Portsmouth when they claimed a bad situation turned worse.
They say a man had been in a fight and was knocked unconscious.
Police and EMS responded, and when the man who'd been injured came to, he wasn't calm, Trevor Conley says.
"He just woke up from being knocked out, and he's got guys all around him grabbing a hold of him," Conley says. "You're going to freak out."
They say they watched a police officer use a Taser on the man, and a medic tried to intervene on the man's behalf.
"The EMT said, 'You can't be tasing this guy, he's bleeding, got head problems,' " Josh Journey said. "Then after that he grabbed the EMT, took him across the street, and I saw him have his hand on his throat all the way across the road and had him up against that cruiser."
"When the EMT was telling him 'you can't do that, you can't do that, he's got head trauma,' he grabbed him up here," Chad Bennett said, motioning around his neck.
Journey says that's when he started recording with his phone.
"He saw us with our phones out," Journey said. "That's when he came across the street at us and was pretty hostile."
Journey says officers tried to take his phone away but were unsuccessful.
"I think they realized that they'd messed up," Journey said.
"He could've handled it a little better," Conley said. "I know the situation was crazy."
The Portsmouth police chief says he's seen the Facebook video and that it only captures a fraction of what happened.
The chief says the case is under administrative review, which is typical whenever an officer uses force on the job. That review is expected to be completed by Wednesday, at which point the department will say more on whether the officer's actions fell within departmental policies.
An official with Life Medical Response, the company the medic works for, says they've been working with police since this incident, and they'll say more after the administrative review is completed. The official also said the Facebook video had been heavily edited.